I got sick of just tweeting what I thought about 例大祭 12, and decided to put out an anticipation post for once. I'm not sure what to write for an introduction, and I don't think I have anything to say here either way, so let's just cut right to chase.
Looking back, I think I may have typed too much…
Zytokine's kicking off this Reitaisai with a full PC98 album, and itori is back! I can't offer many criticisms, since it tops Photographic Destinations in seemingly every way. Even the cover art is better (Aya's tube leg really gets to me).
The album begins by reeling us in with "rebooted chaos"'s hooking beat. The next noteworthy track is Nachi's. Linjin really seems to put Nachi's voice to better use than most circles, and you can really hear it in "fantastic drive." You can't have a Zytokine album without Itori, and her tracks are great. They definitely provide the balance the album needs. The only songs I'm not too much a fan of are "relation" and "liquid prison," but even those may grow on me when I hear the full versions.
Alstroemeria Records – POP|CULTURE 3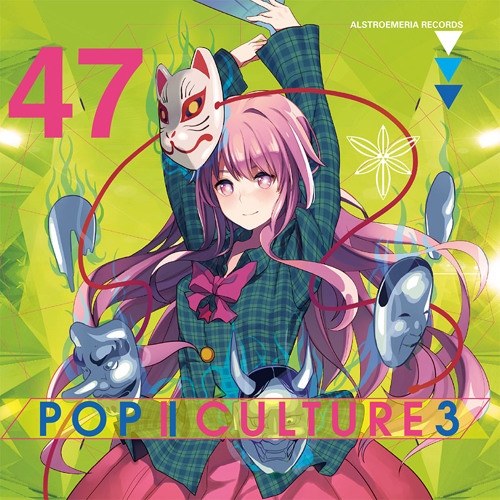 Let's be honest, who really wanted Pop Culture 3? Personally, I feel like the name could use a bit more creativity while keeping the pattern, like "Pop Explosion" or something, rather than just adding a 3. From what I hear, these albums are named such because they draw influences from popular EDM tracks.
While the album mainly follows the pattern of the old Pop Cultures, there's one surprise: NOMICO! After 4.5 years, she's back for this album as vocalist for perhaps my favourite track of the album: "Lost Emotion." Nachi's track may be good, but the crossfade doesn't really go anywhere, so I can't judge it. Tracy, from Amateras Records, made another guest appearance in "COMO," along with a voice sample saying "Fuck you." I couldn't help but laugh when I heard it. Lost Emotion, Peaceful Romancer, Doll of Misery and サクラ・ホライズン are the only ones that really seem to hold my interest this time around.
Another Sound Holic album of their multi-genre kanji series. This time, featuring "Magical Astronomy" and "Retrospective 53 Minutes" arranges, as a continuation of 秘 -HIME-.
Eh, I can't say any of the tracks have me too hooked. "Galaxy Flower" sounded pretty cool. I'm usually not a fan of Sound Holic's eurobeat tracks, but this one was good. "Rogue Star" is too hard for me. Oceanic Blue doesnt feel like it really goes anywhere, but I like the inclusion of Blue Sea of 53 Minutes in there. 「エデン」 is good. I've always liked Yurika tracks, so I'll give "方舟 -ARK-" a go while I'm talking about her. I'm not too much a fan of Swing Holic's jazz, but I love 向こう側の月, so I have to at least somewhat enjoy 「荒城のセレナーデ」. Linjin uses some sounds I've never heard him use before in ""Lost in space," reminding me a bit of Alstroemeria (in a bad way). CALEN and 3L tracks are others I've always generally enjoyed, so I'm looking forward to "beyond the stars" and 「夢色世界」 as well.
As said previously, I'm generally not a fan of Swing Holic's jazz, but DDC has the best Touhou OST I've heard in a while, so I have to give this a listen. Plus, just look at that Sukuna on the cover. I won't go deep into this crossfade, but I did enjoy it.
EastNewSound – Nostalgic Breeze
The crossfade isn't out for this one yet either, but I generally enjoy EastNewSound's albums. I'm sure it'll be good.
Sally (サリー)

NSY and Wani seem to be taking a big break lately, and who can blame them, after putting out so many new albums one after another. This Reitaisai, they're only putting out remastered versions of "シンドローム" and "Sally." Not much to say about that, but they are good albums.
No news of new releases from Monochrome-Coat or AdamKadmon, though I hear they are playing a live show this Reitaisai along with Sally.
Toranoana (とらのあな) – 東方幻奏響UROBOROS参
A third Uroboros album already? I haven't listened through the entire thing, but it is what it is: a compilation album just like the previous ones, featuring all your favourite circles. I would like to point out that the vocalist for Monochrome-Coat here is Yudzuki (癒月), the same one who sung "Dear You" from the Higurashi series. That's pretty cool.
Babbe Music – RADIANT DANCEFLOOR
"7th Full Moon" reminds me a lot of a Alstroemeria's "Endless Morass"
Isn't that the same melody in the background? Yes it is. Definitely looking forward to "Let Me Be Your Star," the Reverse Ideology arrange. I love the interlude track as well. None of the other tracks caught my attention as much, but it's a really solid album. Definitely worth checking out.
twinkle*twinkle – Fortune Music selection of nachi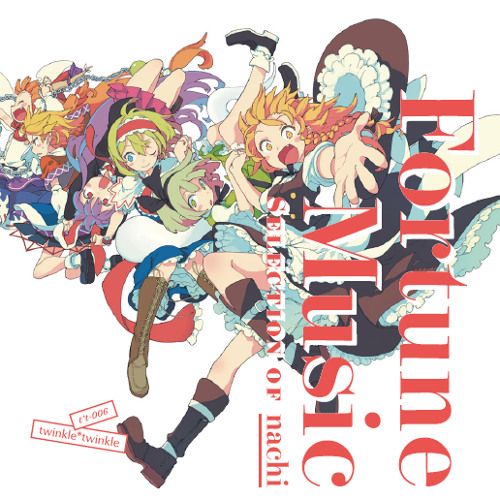 A best-of album, featuring Sakaue Nachi's works from various circles and albums, and a few original songs too. It really does have a lot of her more memorable works, so it's hard not to love it.
Amateras Records × M.H.S – Harmony of Twice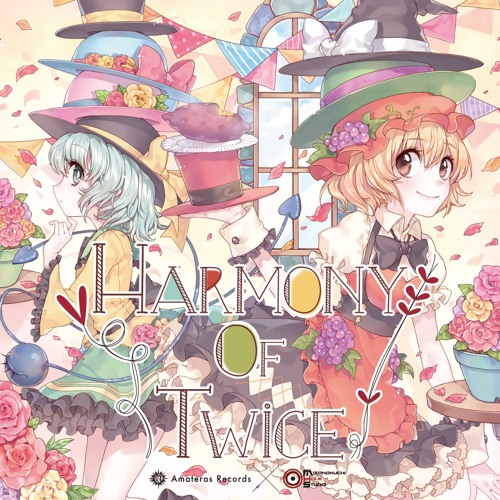 I've never heard of M.H.S before, but as well as releasing an instrumental album for Unrequited Hearts and a best-of album, Amateras is doing a collab album! I don't really have any strong opinions to say here, but "Eyes of Truth" and the "akasha-assembly" Tracy Remix are great.
Cute Cirno! I really like the ice hair. This album's focused on youkai, with the theme being their "instincts." It always takes me a while to warm up to new RD-Sounds releases, but I'm really liking the instrumental songs, such as 水面よりソット・ヴォーチェ and グレートアトラクター.
Φ串Φ is back with another 死せる哲学の袂esque song as well: 「善意のマモノ」.
Yonder Voice – 蒼月の懺悔詩~Universal Nemesis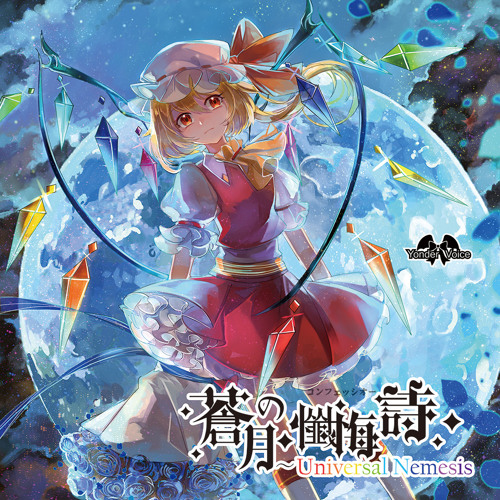 I really liked Yonder Voice's last album, so I decided to give this one a listen to as well, and it sounds just as promising. I can't say I like the first track too much, but the rest is gold.
Find Your Way – I COULD COVER WHATEVER I WANTED IF I WANTED
Album art in the works, I've always liked Veto's music, and it's free! Wow! As you can see from the title, this EP is entirely focused on covering songs, including one from 9bFOX, one from Foreground Eclipse, and 死際サテライト.
I mainly want to take this time to say that his last EP, "HOMEWARD EP," was pretty good too. Especially if you like acoustic songs. In the future, Veto plans to release a full Find Your Way album as well, so don't miss it.